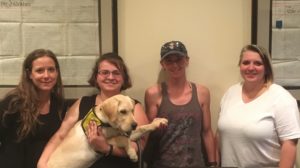 HAPN was born out of a desire to find practical solutions to the housing crisis in BC. Landlords, community and affordable housing providers need support and practical help to tackle the challenges of renting to more high risk tenants such as pet and families.
While we fully support organizations who  advocate for policy changes to be more inclusive of pets and families, we firmly believe that housing providers need practical reasons to rent to these types of tenants. This is where we come in! We want to work to bridge the gap between housing providers and housing seekers and business that support them to help reduce the risk and provide positive rental experiences.
HAPN incorporated June 26, 2017 in Vernon, BC by Krystal Holland, Sarah Doan, Kirsty Woodward and Ida Hearder.